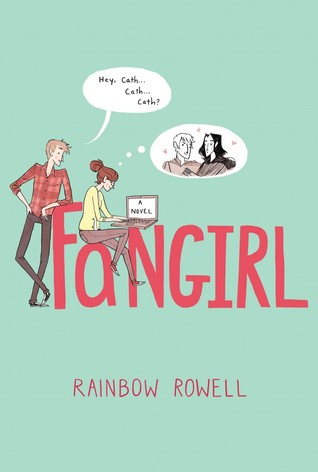 Briefly: Twins Cath and Wren have always shared everything…a room, clothes, taking care of their father, a Simon Snow addiction. Headed off to college, Cath is surprised to discover that Wren has decided to branch out and room with someone else at school. Stunned, Cath finds she has to navigate the horrible world of meeting people…alone. Wren always was more social, and in high school there was never one without the other. But as Wren strikes out on her own, Cath is forced out of her shell in more ways than one.
The last Simon Snow volume is being published soon, and Cath knows that her fan fiction followers are aching for her final chapters. She and her sister always wrote together, but these days, Wren is more interested in partying with her new roommate/best friend and staying far away from Cath and Simon.
Cath's roommate is scowly and growly, though her boyfriend, Levi, is overly nice (and always in their room). Being accepted into a writing class that in all upperclassmen has turned out to be a little harder than she thought, especially since her professor doesn't see fan fiction in the same light. As Cath tries to cling desperately to what makes her comfortable, her relationships with those around her are constantly forcing her to step out of the relative safety of her dorm room, her chat room…and her heart.
Didja Like It?: I liked all of the characters here, as they all seemed real. The one twin who wants to expand her horizons as a single; the hard-to-get-to-know roommate; the super friendly guy; the cute and mysterious writing partner; the fragile father; the long-gone mother; the maturing sister. The people, in short, are normal and authentic. In fact, other than a few initial descriptions about what they look like, not much more is said unless it is related to the action on the page. They aren't "hot" and pouty-lipped in every other sentence; however, they are gorgeous and interesting and worthy because we know them. Like – gasp! – actual life.
Anything Else to Mention?: While the book is long and started off slowly, there was no other way to tell this tale. It remained true to itself and its players. There are many excerpts from both the Simon Snow "books" and the fan fiction, and they dove-tail nicely with the story.
To Read or Not To Read: Though this story is a little less heart-rending than Ms. Rowell's previous book, Eleanor & Park, it is certainly no less outstanding.
Fangirl by Rainbow Rowell was published September 10, 2013 by St. Martin's Press. Ink and Page picked this book up from the library, so it was my choice to review it.
Rating: 4
Genre: New Adult/Young Adult Contemporary Fiction Romance
Ages: 14 and up
You Might Want to Know: As the characters are in college, there is some drinking, smoking and sexual activity.