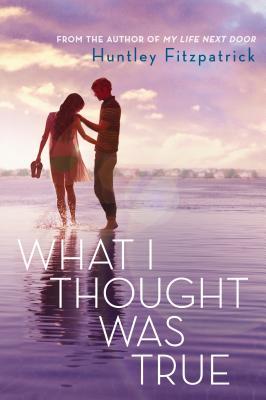 Briefly: Maybe first impressions, plans and opinions aren't the truth. Gwen's family has lived on Seashell Island ever since her grandfather opened the local eatery, Castle's. Her entire family has served the local summer crowd for decades, and they haven't much to show for it. Gwen is determined to get away, but there's one thing she can't escape from: her reputation.
Cassidy Somers is the son of a successful boat builder, but he and his best friend were ousted from the local prep school and forced to attend the local high school when the prep school grew weary of their antics. Now his dad wants him to learn his lesson by forcing him to be a yard boy all summer.
Cliques collide in this story of self-worth, forgiveness, and the price of dreams.
Didja Like It?: I am a big fan of Ms. Fitzpatrick's writing. Her previous book, My Life Next Door, was fabulous. She certainly doesn't disappoint in this follow up about a girl whose family caters to the "summer people" who come to their island to play idly in the sand.
The secondary storylines are well-crafted and interesting, involving Gwen's divorced parents, her grandfather, the long-time relationship between her two best friends and the elderly lady she has been paid to take care of. All stories wind around each other intricately and cause the story to be complex and feel true.
To Read or Not To Read: Of course! Who doesn't like sand, ocean, blue skies and beach parties? Who doesn't like complications, feels, resolutions and grace?
What I Thought Was True by Huntley Fitzpatrick was published April 15, 2014 by Dial Books for Young Readers. Ink and Page picked this book up from the library.
Rating: 4
Genre: Young Adult Contemporary Romance
Ages: 13 and up
You Might Want to Know: There are references to sex, underage drinking and smoking