Welcome to my post for Feature and Follow Friday. This meme is the brainchild of Alison at Alison Can Read and Rachel at Parajunkee's View.
Each week, in addition to a question to answer, one of the previous week's participants will be randomly selected by each host for an interview (hence the Feature portion of the meme). This week's featured bloggers are Blethering About Books and Adria's Romance Reviews.

Here's this week's question:
If they were throwing the  HOTTEST books off of a Mardis Gras Float, what would you do to have them throw to you?
It's no secret that Mardis Gras can be très fou (very crazy) and some of the parade watchers can get a little risqué and downright competitive when it comes to the throws. If they're slinging hardbacks, I guess you might want to down a few Hurricanes first so you can't feel them make contact with your noggin. If it's paperbacks they're tossing, then here's a few things you might want to do to get some swag: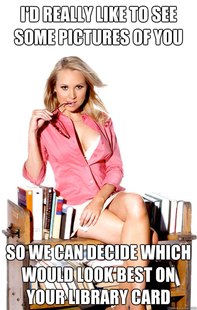 Nothing says "I'm sexy…and I read" like exposing your library card. Yeah, baby.

Speaking of libraries, dress up like a hot librarian (glasses, hair in bun, fitted button down, short pleated skirt, 4″ stilletos) or a hot book blogger (glasses, hair in disarray [haven't brushed it yet this morning], baggy t-shirt, too-short flannel pj pants, Uggs).
Make a sign that says something like "Librarians Do It By the Book" or "Never Judge a Book By Its Movie."
Dress like a zombie or 2013-version of fairy tale character. VERY big. Movies are catching up with the zombie craze, so there's a little more mileage left in that tank. But fairy tales? Fuggedaboudit – or should I say Oubliez ça. Jack the Giant Slayer (we say Killer in the US), Hansel and Gretel, Maleficent, Snow White (with huntsman and without): they're HUGE and will be for the foreseeable future, if the folks posting on IMDb know anything a'tall.
Costumes are big, so how's about Le Roi himself…Melvil Dewey. Everybody knows what HE looks like, right?
How about a tight t-shirt that says "Read Books, Not T-Shirts?"
If all else fails, furrow your brow and shush the people on the float. If they don't hand over the books out of respect, they will at least throw them at you.
But for maximum potency, do keep that library card peeking out from somewhere at all times.