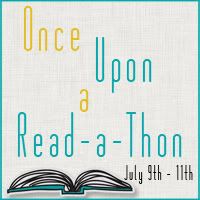 Since the read-a-thon is only 3 days, and I beat myself up with too many books on the last one I did, I have decided that I will read two books this time. Though I have a couple author requested reviews due next week, I am going to stick to ones I chose to read. Sooooo, I am going to read:
Insurgent by Veronica Roth
and
Paranormalcy by Kiersten White.
My other goals are to find many more awesome blogs to subscribe to and tweeps to follow!
Today's mini-challenge is courtesy of Bailey at IB Book Blogging:
Question 1:
What is your favorite cover that has been revealed this summer and why? Post a link or picture of the cover if you want.
The book cover for Timepiece by Myra McEntire is really cool. The second book of the Hourglass series, the covers are well-thought out in that they have the same elements in both, but they are configured differently. I also loved the picture and the coloring on Meg Cabot's Underworld which is the second in her Abandon series.
Question 2:
Do you rely on the cover to help you choose whether you want to read a book or not?
I never judge a book by its cover, but a compelling, different or interesting cover will definitely make the book mysteriously move up to the top of my TBR pile!