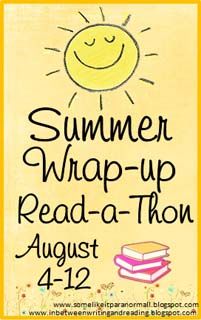 It's finally that time! I have been waiting for this challenge since the beginning of summer, knowing that once it got here, that meant two things: 1) It's time to begin thinking about all the back-to-school crap I've got to get; and 2) Finally, I have a chance to get caught up on some reading. (Ha! Can you ever, really, get caught up?)
If you'd like to join, check out the info here at Some Like It Paranormal.
First things first…here's my tentative list of what I plan on reading during the course of the read-a-thon. (Realistically, I hope to get through the first 7.):
Betrayed by Ednah Walters
Stealing Breath by Joanne Brothwell
The Perks of Being a Wallflower by Stephen Chbosky
Gimme A Call by Sarah Mlynowski
Unraveling by Elizabeth Norris
Matched by Ally Condie
Shine by Lauren Myracle
Grave Mercy by Robin LaFevers
Sweet Evil by Wendy Higgins
Tiger's Voyage by Colleen Houck
I am looking forward to discovering more books from the many blogs that I follow as well. Maybe I will post that list towards the end of the read-a-thon.
Time to write and review for the book I finished last night and to get to the first read-a-thon challenge!